FanDuel Offers Free Bets as Michigan Welcomes Online Sports Betting
Michigan welcomes online sports betting with FanDuel sportsbook is set to expand its presence as it launches. The online market will be extremely competitive; therefore, FanDuel offers $100 worth of free bets. It is also a way to bring in new customers.
FanDuel is no stranger to offering generous bonuses and promotions. However, the operator is stepping things up in anticipation of the Michigan launch. Besides basketball betting, the sportsbook will feature the Detroit Lions and Michigan Wolverines teams.
A Pre-Register Bonus Available as Michigan Welcomes Online Sports Betting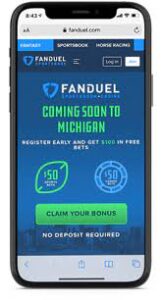 For the customers to be more excited, as Michigan welcomes online sports betting, the online sportsbook FanDuel currently offers a pre-register bonus for state residents. This bonus is available for online sportsbooks and online casinos, as the operator will launch both.
The customers pre-register for a FanDuel account will receive $100 in free bets to use at the site. It is where the operator is providing good sports betting odds. The bonus will come in $50 at the sportsbook and $50 at the online casino.
The bonus does not need any promo code nor any action to be able to use. The customer will pre-register for a FanDuel account, and the money will be credited to the account upon logging in for the first time. However, the bonus will go away as soon as the first bet is placed on each platform.
Additional Bonus for New Customers
Along with the pre-register bonus available to everyone, FanDuel Michigan will also offer a new customer bonus. It is when the app will officially launch. This is the standard offer that FanDuel sportsbook provides for the rest of the country.
The operator also offers its customers a risk-free bet up to $1,000 upon signing up. Of course, it depends on how much money is deposited. There are also sports betting tutorials available for first-time bettors. Furthermore, if your first bet loses at the sportsbook, FanDuel will instantly credit your account for a refund.