Why Sportsbooks Should Cater to You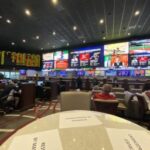 Is the Customer Always Right at Sportsbooks? Whether it be online or at a land-based casino this question is pondered on a daily basis many times by sportsbook managers.
Sportsbooks should always cater to players. If you're playing with a sportsbook that doesn't, it's time for you to make a change.
Players are what keep sportsbooks alive. If it wasn't for players, your sportsbook wouldn't be in business.
For this reason, they should treat players with the utmost respect. They should also provide players with an epic gaming experience. This keeps their book in business.
Never forget that you make the sportsbook
Sportsbooks rely on players to make money. They need players on their site in order to generate enough revenue to win.
You're trusting a sportsbook with your money and wagers. There are tons of options for players, so sportsbooks need to take this seriously.
They make money by keeping players on their site. If they don't cater to you, they won't operate at a profit for very long.
Editor's Choice: Why the Right Sportsbook is Important
Here are some examples of how sportsbooks should cater to players:
Tons of Betting Options Keeps Players Happy
A sportsbook that gives players a ton of betting options cares. If you're betting, your goal is to make money.
You want a lot of odd choices to create a massive payout. If a sportsbook doesn't provide bettors with this feature, another company will, so look for this in a book. Be sure you can place all the normal spread, total and moneyline bets, as well as teasers, parlays and props. Betting NFL props is quickly become a favorite of many bettors.
On top of betting options, having ways to increase your bankroll with contests, promos and bonuses are a must. For example, at 1Vice.ag, they allow you to pick your bonus on every reup.
Great Customer Service Allows Disputes to be Resolved
When money is on the line, disputes need to be handled quickly. A sportsbook that offers great customer service caters to players. Never bet with a sportsbook that you're unable to reach with questions.
Sportsbooks need great service because it keeps players using their book. You're wagering money with a book, so they owe this to you as a player.
Ability to Handle Player Criticism
You're going to want your voice to be heard by a book if you're a frequent player. If a sportsbook doesn't listen to your complaints, they shouldn't be on your playing list. By keeping players happy, they're making their site better.
This catering is necessary to provide a great gaming experience. If a sportsbook doesn't do this, another one will, so don't stop searching.
Were you able to win some money betting the 2020 US Presidential election?
Final Thoughts on Sportsbooks and Respect
Here's my favorite analogy for great sportsbooks. Think of a sportsbook as a service like a hotel or restaurant.
You're paying for a great experience. You want everything to be done how you like because you're paying.
If you have a bad experience, you want it fixed, and you want to be heard. If an establishment falls short here, you won't go back. If they do this enough, they won't be in business very long.
A sportsbook works the same way as any other service industry. Everyone pays the book a different amount, but you're paying for a service. If it's not done right, you have the lone choice of betting with the company again.
If sportsbooks don't keep players happy, they'll be out of business. When it comes to sportsbooks, your opinion matters. They should cater to you, and you should never entertain one that comes up short.
You make the sportsbook, so don't forget that when choosing one for all your betting.