Table Tennis Among the New Sports Betting Favorites
With no hockey, basketball, and baseball, table tennis becomes one of the new sports betting favorites in the time of coronavirus pandemic. As shown by hard data, some unpopular games in the past have become favorites of gamblers.
Major sports leagues suspended their regular seasons due to the coronavirus. As a result, esports and MMA received the majority of sports wagering handle. However, there are several surprises, including table tennis.
Although top soccer leagues temporarily canceled their seasons, the coronavirus failed to stop soccer in all parts of the world. According to online casino reviews, club friendlies continue to be played somewhere on the planet. Also, some leagues are still playing, including the Belarusian Vysshaya Lida and the Primera Division.
New Sports Betting Favorites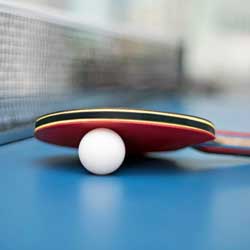 The NBA canceled its season, but that doesn't mean ball is no longer life. The Taiwan Champion and Russian MLBL are still ongoing.
However, the most surprising sport to become popular in the time of the pandemic is table tennis. According to sports betting odds sites, Pro League Moscow and the TT cup still hold matches. Also, the games are easy to analyze, and live streams are available online. It is also an exciting game to watch because the action is fast-paced.
Unless you play roulette online most of the time, you probably heard about esports. There are many betting opportunities in the esports scene because tournaments are played online. One of the most popular esports leagues that's ongoing is CS: GO ESL Pro League. In its 11th season, the association is continuing to grow even when there's a health crisis outside.
The UFC continues to hold events without a live audience. As a result, many sportsbooks still have lines and odds for MMA matches. Also, the UFC stream events live for its fans worldwide.
Although there's no NFL action now, some people bet on NFL 2020 simulations. It allows players to wager on the NFL even when it is the off-season.
Bet on table tennis with VOBET, the best sportsbook in the world!