Incheon United Coach Resigned Sunday
With the team stuck in the last place in the K League 1, Incheon United Coach resigned. The team confirmed Lim Wan-sup's resignation after the loss to FC Seoul. He is the first coach to leave in the current season.
Lim offered his resignation after losing to FC Seoul on the road Saturday. The team announced it accepted the resignation Sunday after losing seven straight games. Also, it is the only team in league with no wins. At present, it has two draws and seven losses.
Incheon United has the lowest goal output in the current K League 1 season with three goals in nine games. Also, the team is six points behind the 11th placed Busan IPark.
Incheon United Coach Resigned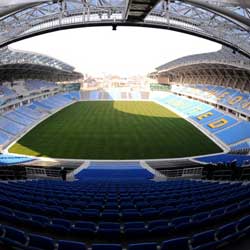 The last-placed club in the K League 1 at the end of the season will be demoted to the K League 2 the next season. According to football and basketball betting analysts, Lim became the head coach of Incheon in February.
Lim's previous coaching job was with the Ansan Greeners FC in the K League 2, according to sportsbook directory sources. He replaced Yoo Sang-chul, who is suffering from cancer. Also, Lim was Yoo's assistant coach when they were part of the Daejeon Citizen club in 2011.
Fans who bet on sports know about Incheon's injury problems this season. It started with Lanre Kehinde's knee injury that made him miss the entire season. The latest United player who went down with an injury was Stefan Mugosa. He missed the last game due to an ankle problem.
In the hopes of salvaging its season, Incheon reacquired Elias Aguilar. He last played with the team in 2018. The team signed a six-month loan agreement with K League 2 team Jeju United for the Costa Rican player. The two sides didn't disclose the terms of the deal.