BetOnline.ag Sportsbook Review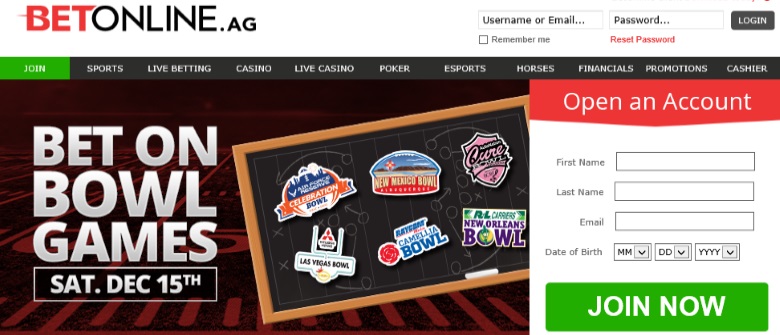 BetOnline.ag is one of the oldest online and most sportsbooks in the world.  In addition, it is known for being one of the best betting options for recreational and professional Punters alike. In our BetOnline.ag Sportsbook Review we go over whether they remain a safe and reliable sportsbook.
The history of BetOnline.ag starts in 2006 from their office in Santa Ana, Costa Rica.  A few years later, they made a move to Panama and have been there ever since. Like any offshore sportsbook, they have seen their share of problems but today, they remain as strong as ever. In addition, most gambling reviews agree that they are still a safe bet!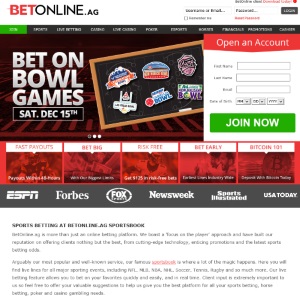 About BetOnline.ag
BetOnline.ag offers a wide array of gambling options which makes it a favorite amongst gamblers.  This is because they are a one-stop gambling website that offers sports betting, live betting, poker, racebook and casino games.  In addition, their gambling options include a live dealer casino, financial betting and even eSports betting.
In terms of bonuses and promotions, they are known for having generous welcome bonuses and year round seasonal promotions. Bettors all round the world enjoy the many banking options available to them.  Thus, they enjoy how easy it is to make deposits and withdrawals with BetOnline.ag
Some of the banking methods include: Bitcoin, Ethereum, Litecoin, Dash, BitcoinCash, credit cards, person-to-person, money order and many other options. Just keep in mind that even though they have many banking options, not all of them are available every player. This is because of country restrictions.
Welcome Bonus: Up to 100%
Re-Load Bonus: varies
Refer-a- Friend: up to 200%
Language: English, Spanish
Min Bet: $1 Online wager, $25 by phone
Max Bet: Up to $25,000 depending on sports and bet type
BetOnline.ag Sportsbook Review

Opening an account with BetOnline.ag is fairly simple because they only ask for basic information. Once you submit the form, it only takes seconds to login your account, make a deposit and start betting! Even though their website is not the prettiest, their sports betting platform is one of the best in the industry.
This is because veteran and amateur bettors will notice how easy it is to place a bet.  Furthermore, they mobile application is clean and easy to navigate.  Thus, placing a parlay, adding points to a teaser or making a straight bet is easy to do!
Their online casino could use some work as they are still using an older provider which is easy to tell because of the archaic graphics.  However, their live dealer casino and eSports betting platforms is top notch.
In terms of payouts, we are happy to say that they always deliver.  Depending on the payout method you choose, you can receive one in less than 24 hours.
Our Final thoughts
Even though they mostly cater to the North American bettor, BetOnline.ag is a solid choice for bettors around the world. We recommend using their services because after over two decades, they still have excellent odds, customer service and reliable payouts.