Wager6.ag Sportsbook Review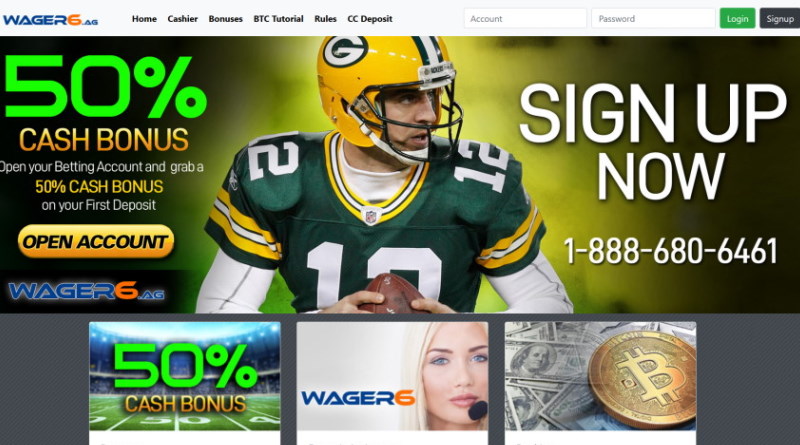 In our latest in gambling software reviews, we are going to take a look at one of the more discreet, yet hugely popular in spite of it, sportsbooks in the market. We're taking a look at a sportsbook that is powered by experts who have over 25 years of experience in the sports betting industry. With a wide selection of betting options, coupled with numerous payment options, Wager6.ag is growing to be one of the best we are seeing online. Let's begin with our Wager6.ag sportsbook review.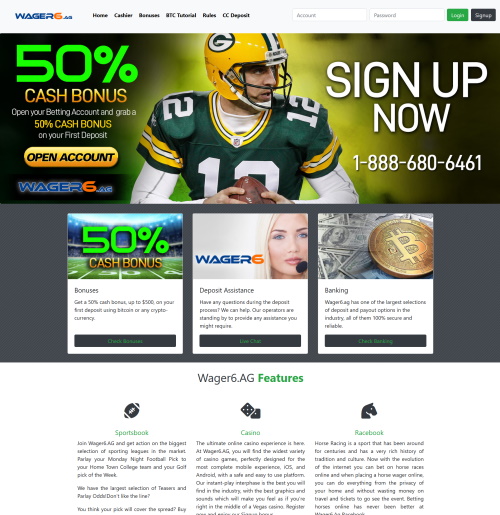 About Wager6.ag.com Sportsbook

They have been in business for less than 5 years, but they are gaining a loyal following, because of their offerings plus their payment options. Wager6.ag is based in Costa Rica. A country known for producing reputable sportsbooks and bookie pay per head providers.
They focus a lot on developing the the latest technology in sports betting. They use this to offer their customers the widest variety of betting options. With this achievement done early in on their operations, they have experienced a big surge in new customers. This makes them a not-so-secret go to for those who want to bet on sports.
They offer a multitude of gambling solutions, with a very diverse sportsbook with live betting. They also offer a racebook with a wide selection of betting options. There is also an online casino available for those who want it.
Inception: 2015
Bet: $1 online and $25 from phone
Location: Costa Rica
Gambling Platform: DGS
Telephone: 1-888-680-6461
Live Chat: yes
email: cs@wager6.ag
Website: https://wager6.ag/
Promotion: 50% Cash Bonus
Telephone Wagering: yes
Internet Wagering: yes
Sports Betting: Yes
Casino: Yes
Live Dealer: Yes
Live Betting: Yes
Mobile Betting: Yes
Wager6.ag Sportsbook Review
Wager6.ag is a great site for new bettors to use. The layout is very clear-cut. You can easily scroll through the variety of betting options. And there are a lot. We have access to a lot of types of wagers that you can make from different sports events from around the world. Not only that, but they have a racebook that has a surprising amount of betting options as well. Normally, you can see in some sportsbook reviews that racebooks are mentioned. But mostly as an afterthought. Here, we'd like to emphasize that for a site that is not solely for horse racing, they are really, really good.

We next explored the payment options. Again, we liked the options available. They have Bitcoin, Ethereum, Litecoin, Dash, Bitcoin Cash, and Ripple. Then, you also have Credit/Debit Cards, Person to Person, Money Order, Wire Transfer and Cashier's Check. Bascially, what you use to deposit in, you can use for payouts as well. Very, very convenient.
Our Final thoughts
Overall, we think that Wager6.ag will give you a very pleasing sports betting experience. As soon as you register, you are greeted with a 50% cash bonus, which is very generous. Then, you are able to bet on virtually anything you can think of, and you can do it easily. As a bonus, you also get an online casino, online betting, and a racebook. But what we like the most, is that its very convenient to deposit and get payouts. There are no delays so far in any of our transactions, which is, of course, very important for most sports bettors.

Wager6.ag
Average rating:
0 reviews