Betway Receives Record UK Gambling Fine
The online betting company Betway needs to pay a record UK gambling fine of £11.6 million. According to the UK Gambling Commission, the company accepted stolen money from VIP customers. Also, some customers showed indicators of gambling addiction.
In recent months, many people criticized the UKGC for being too weak with its policies. That might be the reason why the commission gave Betway a record settlement to serve as an example to other firms. According to its investigation, Betway allowed £5.8 million to go through its operations.
Betway was inadequate in handling transactions with seven customers. Also, it failed in preventing problem gambling and money laundering. Although the £11.6 million fine is a record, the UKGC didn't revoke or suspend Betway's operating license.
Record UK Gambling Fine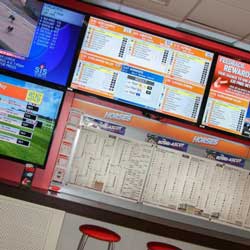 Despite Betway's long list of blunders, the UKGC doesn't revoke the gambling' company's license to operate. The company got £8 million of deposits for four years from a single customer. Automated checks flagged the account as a potential risk 20 times. Also, he lost a total of £4 million. Each time the account was flagged, Betway's staff accepted the person's word as evidence of the source of the money.
After an external audit failed to verify the person's ability to afford his sports betting activities, the auditors forwarded the case to the company's board of directors. However, the board allowed the individual to keep playing. The company closed the account only after the police contacted them about the individual.
According to gambling industry news, another gambler £1.6 million and lost more than £700,000 in three years. The person was unemployed with no source of income. Betway depended on the unverified information that the person can afford to lose that amount of money.
Online casinos have better ways of vetting their players than Betway. In one instance, a customer had 11 accounts with Betway and deposited a total of £494,000. Also, the person signed up to an exclusion program. The commission is questioning how the person registered many accounts when he was part of the exclusion list.