Dan Straily Returns to the Giants, Replacing Glenn Sparkman
The Lotte Giants announced it waived Glenn Sparkman on Sunday. Also, Dan Straily returns to the Giants as Sparkman's replacement. According to baseball betting sources, Straily signed a $400,000 deal with the team.
Straily left the Giants at the end of 2021. He spent the first half of the year with Reno Aces, with a 3-3 record and an ERA of 6.35. As per sports new coverage reports, Straily joined the Giants in 2020 and earned a 15-4 record with an ERA of 2.50. Also, he led the Korea Baseball Organization with 205 strikeouts in 194-and-2/3 innings. However, he struggled in 2021 with a 10-12 record and an ERA of 4.07.
Dan Straily Returns to the Giants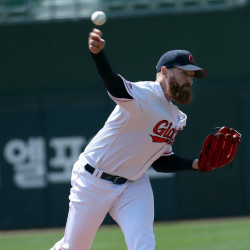 According to sports news coverage, Lotte Giants signed Straily as they try to qualify for a playoff spot this year. The Giants are in seventh place with 40 wins, 51 defeats, and four ties. They are 23 and a half games behind the leader SSG Landers. Also, they are six and a half games behind Kia Tigers, which is in fifth place.
Although Straily had a bad 2021 season and struggled in the minors earlier this year, his experience playing in the Korean league would allow the Giants to insert him into the rotation immediately. Thus, the team picked him as Sparkman's replacement.
Sparkman ended his KBO debut year with two wins and four losses. Also, he had an ERA of 5.31. However, Sparkman is not the only player replaced by the team. Lotte also waived DJ Peters and signed Zach Reks. Thus, only Charlie Barnes remained the original foreign player in the team's lineup this season.
There's half a season left in the KBO. You can do baseball totals betting and other baseball wagering options throughout the regular season and the playoffs.
Bet on KBO games with VOBET, the best sportsbook in the world!